Menu
Cucumber Sandwiches
Spinach Sandwiches
Celery Swirls
Scones
Fruit
Deviled eggs
Mocca balls
Hot minted tea

High Tea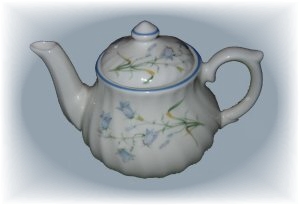 As the days lengthen there is no time better for high tea. It is tradition with the English to have two main meals a day - breakfast and a late dinner. Around four, to deal with that sinking feeling, the English have high tea. The menu for high tea usually consists of cold finger foods which are served off small table around which the participants sit in comfortable chairs. Table should be laid with a linen table cloth and napkins

To make sandwiches ahead, place in sheet cake pan, cover with wax paper and top with damp tea towel and refrigerate.

For fruit let me suggest strawberries or grapes served with brown sugar and sour cream.