Kitchen Collectables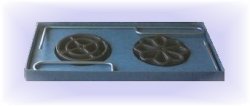 Nothing connects us with the past more than memories out of our parents and grandparents kitchen. A special piece of equipment we can no longer buy off the shelf is a Griswold
(Cast Iron) Patty Molds set. These little molds are used to fry the crispest most delectable rosettes that can be used as the pastry portion of a dessert. Top with cream chicken or pie filling and whip cream for a special treat. I have seen and tried an aluminum set but the specific heat of cast iron makes iron molds ideal. I was never able to keep the batter on the aluminum set.
The batter for the molds is crepe like. Patties can be fried ahead and kept in air tight container for later use. You can reheat patties on cookie sheet in oven.
The Griswold Company of Erie, Pennsylvania produced excellent cast iron kitchen equipment from 1865 and 1957. Their products are highly cherished and collected by cooks.