Breakfast Ideas
Breakfast is one of the hardest meals to serve since guests usually have spent the night. I heartily recommend you make preparations ahead whenever possible.
The Come and Go Breakfast
When having houseguests that will be arising at different times, preparing a do-it-yourself breakfast buffet served from the kitchen cabinet makes guests comfortable and keeps you from staying in kitchen all morning.
Favorite menu items include:
Hardboiled eggs, peeled and kept warm in crock pot. *
Baked bacon that can be reheated in microwave
Microwaveable sausage in biscuit
Microwaveable bran muffins
Coffee cake
Selection of individual cereals
Unpeeled fruit such as bananas, apples, oranges
Coffee, hot water for tea, selection of fruit juices

Maine Pancake Breakfast
Menu: Maine Pancake (recipe below) *
Baked Bacon
Fruit
Syrup
Coffee, tea, and fruit juice
Maine Pancake

2 large eggs, lightly beaten
1/2 cup all purpose flour
1/2 cup milk
pinch of salt
pinch of nutmeg
1 tbsp unsalted butter
powdered sugar for dusting

Heat oven to 425º Whisk together eggs, flour, milk etc until well combined. Batter will be slightly lumpy. Melt butter in a 12 inch cast iron skillet over medium heat. Pour batter into pan, and transfer to oven. Bake until pancake is golden brown and puffy, 10 -12 minutes. Transfer to serving plate and dust with confectioners sugar. Serve immediately. Batter may be made the night before and refrigerated.

Spanish Eggs Breakfast
Spanish Eggs *
Baked Bacon
Toast or yeast rolls. Frozen Sister Schubert's Rolls are great.
Coffee, tea, and fruit juice
Spanish Eggs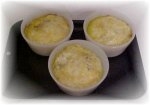 2 tablespoons margarine
6 saltine crackers crushed to fine crumbs
11/2 tsp prepared mustard
6 tbsp milk
6 eggs
6 tbsp cream
12 tbsp grated cheddar cheese
6 strips pimento or jalapeno pepper
Grease 6 custard cups. Place ingredients in each cup in this order.
1 t margarine, 1 crushed cracker, 1/4 t mustard, 1 T milk, 1 egg, 1 T cream, 2 T cheese, strip pimento. Bake at 375º 15-20 minutes or until set. May be assembled and refrigerated the day before.) Serves 6.
* Can be prepared the ahead.